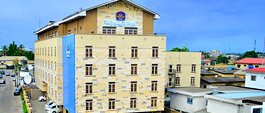 Located in the heart of Ikeja, this hotel is situated in the heart of the business district of Ikeja. It is on the busiest street of ikeja, Allen Avenue. The hotel is specially designed to cater for....
read more >>
What makes all the difference with us is our detailed services designed to make our guest have a memorable stay. When you're traveling, you appreciate the convenience of services and amenities that we offer
read more >>
While you stay at BestWestern lagos ikeja hotel, there are numerous prominent sights to visit. We have listed as many as we can with a few picture clips....
read more >>